We left off with my little story that Alice was asking every one if they knew what the top secret was that the White Rabbit was carrying around...
As it continues... Deep in the Forest... on the other side of WONDERLAND... .
A letter was being delivered...
The Foot man from the Red Queen looked so much like a Fish to Alice... and the doorman for the Dutches looked so much like a FROG???
Alice wasn't here though at this time... and the invitation was delivered...
At the top of this page ... You will notice a postage stamp of ALICE... and this is from Stamp Attack... I have been playing and creating with these stamps now for a few weeks.. and I LOVE them... I hope you will check back each week to see what I have created with them... and also what all my team members have created too... I love these stamps... what fun this is going to be..
You can see the Wonderland Postage on this special letter...
Another stamp from Stamp Attack... the Wonderland 1865 Postage stamp...
This is where the TRUE Top Secret is... in this little tiny envelope...
What ever can it be... ????
Oh My Goodness.... I have been invited to be on the Altered ALICE Design Team....
And I totally except this gracious offer... I am very excited to be on such a wonderfully creative and GREAT team of Artistic gals...
Well.. the secret is let out... and I am excited to not only be on this great team... but also to be able to share with ya'll the creations that I make...
The Fish-Footman began by producing from under his arm a great letter, nearly as large as himself, and this he handed over to the other, saying, in a solemn tone, `For the Duchess. An invitation from the Queen to play croquet.' The Frog-Footman repeated, in the same solemn tone, only changing the order of the words a little, `From the Queen. An invitation for the Duchess to play croquet.'
Then they both bowed low, and their curls got entangled together.
--Chapter 6, Alice's Adventures in Wonderland
Just like the Queen's letter to the Duchess, our challenge this month is to create something with a postal theme - stamps, postcards, letters, envelopes; however you choose to interpret that. As always, all entries that meet the challenge theme are accepted but Wonderland entries are encouraged (they get two chances instead of one in the prize drawing). Friday, June 22 is the last day to enter this month's challenge.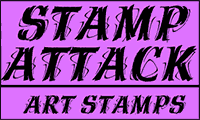 Our sponsor is Stamp Attack, a British company that is well known (among other things) for their fantastic Alice stamp plates which have sold to customers all over the world.
In fact, Helena Bonham Carter, the actress who played the Red Queen in the Tim Burton Alice movie, purchased sets of Alice stamps from Stamp Attack, which were then delivered to the studio! Enabler alert: Stamp Attack offers speedy worldwide shipping for only £1 on unmounted stamp orders, so go on and check out their beautiful stamps!
The winner will receive a Stamp Attack gift certificate for £13.50
, which is equivalent to one of the Alice stamp plates! We will be showing off two
new offerings from Stamp Attack
: Alice Faux Postage and Mouses Tail, aren't they great?
So PLEASE go take a look and have fun picking out all the ALICE stamps.. these are truly delightful...
Hope you have a wonderful day in WONDERLAND... See you next week with more Alice things... and I do hope that you will come back tomorrow to my site to see what other things I have created ... you will be happy...
Thanks for stopping by... hope to see you soon... Love, Light and Peace...Bonnie